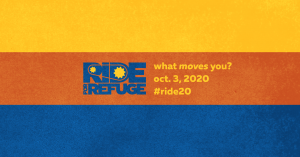 On Saturday, October 3, Presbyterians from across Canada are fundraising in the Ride for Refuge in support of PWS&D's food security programs – projects that help farmers receive training to help improve crop yields, improve their nutrition and deal with the impacts of climate change.  We're riding and walking because we believe in a world where everyone has enough to eat!
The Mission Team of London Presbytery is hosting both a 25 km bicycle ride and a shorter walking option, leaving from Chalmers Presbyterian Church at 10:00 AM, followed by a bag lunch.  You are also welcome to participate from home if you prefer!
Go to http://ride.w-ith.us/london/ to donate to or join the team.  You can use the "Join Us" button to register and we'll make sure you get all the details to have a fun and Covid-safe event.