Ride for Refuge 2020
On Saturday, October 3, 2020 the London Presbytery Team participated in the Ride for Refuge. Ten riders rode in support of PWS&D food security programs – projects that help farmers receive training to improve crop yields, improve their nutrition and deal with the impacts of climate change.  We rode because we believe in a world where everyone has enough to eat. We were supported by 54 donors who helped us to raise $2370., exceeding our $2000. goal. Overall the response was overwhelming, helping PWS&D to exceed its fundraising goals.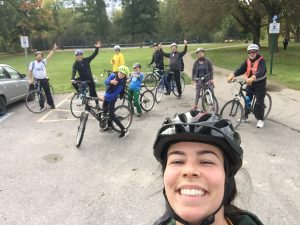 Some fun facts: our total ride distance was 27.51 km, total time was 2:15:47, moving time was 1:54:05, average speed was 14.5 km/h, elevation gain was 156 m, calories burned 628. The route took our riders mostly on bike paths along the Thames River, but ended with the challenging Meadowlily Hill. The ride was a safe, socially distanced outdoor event, ending with a bag lunch, prepared masked and gloved, eaten, socially distanced on the lawn.