Welcome to the Presbytery of London website

We are all anxious to be able to worship together in person, but please help us stop the spread of Covid-19.  You will see these signs at each church in our Presbytery.  Please stay home if you have any of these symptoms.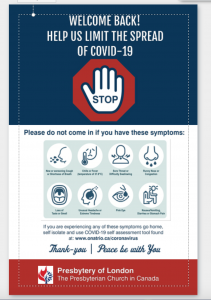 At the June 30th, 2020 Presbytery of London meeting, it was passed:
THAT Presbytery advise sessions that:
 all health protocols must be followed prior to reopening or hosting public worship inside or

outside;

sessions be encouraged to move slowly before considering reopening in the midst of this world-wide pandemic; 

insurance companies

must be consulted prior to decisions regarding opening.