Mission Trips
London Presbytery
Young Adults Mission Trip 2017
When: Approximate dates are August 20th- September 3rd (this will allow us time for some cultural visits at the end of the trip)
Where: Guatemala-We will be travelling to all parts of the country
• Partners include: Francisco Coll School, CEDEPCA, Fraternidad, AMMID, ASDENA
Who: Ages 18-30
Cost: $2500 (However grants have been found for $800-1500 of this cost)
• All transportation both to & from Guatemala as well as within the country, all food, all accommodations and all necessary insurance (cancellation & medical should you not already have private coverage). Medication and shots not included.
We will be working with Youth in Mission to achieve the following goals:
• Expose young people to the realities of life in other parts of the world
• Interact with young people from within Canada and the World
• See how The Presbyterian Church in Canada is making an impact worldwide
**Applications and a $50 deposit (cheques payable to Presbyterian Church in Canada) are due February 6th to:
Allison Bell
569 Rington Cres.
London, ON
N6J 1Y7
allison.bell@outlook.com
**Interviews will be conducted after applications are received**
Montreal "Pay It Forward"
Day 1:
Excited for the Quebec trip, I was extremely worried about sleeping in…. so the only way to not sleep in was to not sleep at all! My friend aided me in achieving that goal with pizza and mountain dew, counting down the minutes until I had to bug my mother to wake up. The drive to Chalmers was very peaceful; I had the radio turned down low so it was just the sound of the road. When I arrived at the church the first face I recognized was Mavis', she welcomed me and had a very excited tone in her voice. After the bus arrived and we packed our entire luggage, this is a list of all the things I did while I was on the bus
– Sleep
– Wake up
– Eat
– Sleep
– Wake up
– Eat
– Wait
After we arrived in Montreal I was mesmerized by how beautiful Montreal is! The rest of the time up to dinner was waiting to get our keys and changing into shirts and finally getting back on the bus to get to Cote Des Neiges Church- which was ready for us with a fantastic dinner and the night ended on a high note with a fantastic worship. Now, Mavis is making me type this entire thing against my will….
Cooper Steven,
Knox Presbyterian Church.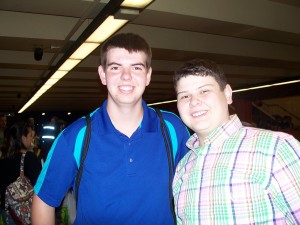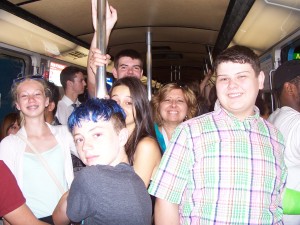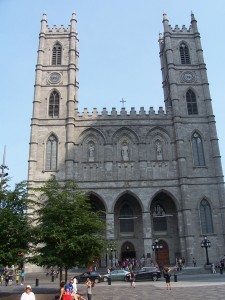 Day 2
Well, the first full day in Montreal is over, and it was a busy one. Wake up call was at 6:30, followed by a cold 7:00 breakfast. After breakfast, it was time for us to work. I was at the college along with half of the group doing many different projects. It was a slow start, but once we were all set up, it was fast and efficient work. There were multiple jobs to be done. I started on scraping old paint off the ceiling of the courtyard walkway. The desks in the residences were sanded down to become as smooth as possible. The other half of the group travelled out to Cote De Neiges Church to lead the VBS that's being run throughout the week. They had lots of fun with a small number of kids that showed and are ready for the rest of the week. After a well-deserved shower, and when the VBS group returned, it was time for lunch. We all enjoyed the rest that came with it. After lunch, we had our first taste of the Dependable Strengths course, and then it was off to old Montreal. We rode the metro to and from old Monteal, which was an experience. We got to see the Notre Dame Cathedral which was amazing. We got some free time to explore the city and then we went to dinner. We had crepes and then went to see a documentary on fish and the ocean at the IMAX. It was all fun and tiring and we wouldn't have been able to do any of it without the help of Joel, the Cote De Neiges Minister. We ended off the day with a peaceful chapel.
Sam Ramey, Westmount Presbyterian Church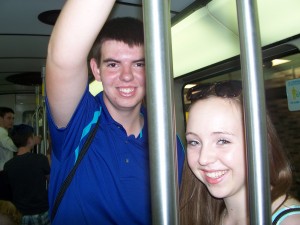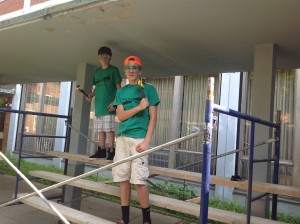 Day 3 and Day 4
Wednesday July 8th, 2015
Today after waking up and eating breakfast, we all got started on our projects for the morning. After the past two days of scraping paint outside, sweeping the courtyard and doing other various tasks, the work crew was glad to finally get to start to paint the interior of the college. What would seem to be a somewhat boring job, soon became a bonding activity for those involved that included maybe a little too much singing, dancing, and finger painting; but in the end a lot was accomplished. Out in the courtyard it was discovered that the paint was much easier removed by using a power washer, than the labour intensive method of scraping, making the lives of the boys doing the job much easier.
Once the Vacation Bible School (VBS) crew arrived at Côte-des-Neiges church it was very motivating to have 12 campers register at the beginning of the day, compared to the previous day's 7. After having circle time and learning some new dances and songs the children were broken off into their groups to start their morning activities. After doing crafts, science experiments, and having fun singing and dancing, a trip to the nearby park was a good change of scenery. Upon returning to the church they sang some more songs while waiting for the camper's parents to arrive.
After the VBS crew arrived back at the college and the work crew was cleaned up we ate a delicious lunch prepare by chef Nadia that consisted of hamburgers, pasta salad, and chocolate cake. Once lunch was over we had an hour of free time before heading to La Ronde: the largest amusement park in Quebec. After dividing ourselves into groups we waited to receive our fast passes and then headed for the rides. Over the course of the rest of the day many people faced their fears of heights, flips, drops and rollercoasters, sometimes with gentle encouragement and the lighthearted persuasion of the rest of the group. At 9:00 when we left the park we were all energized from our amazing day, which resulted in a spontaneous outburst of singing led by Kyle and Scott that lasted the entire ride home.
To end the day we had chapel at the college and read the things written by Mr. Kobold. Mr. Kobold is an invisible man who came up on the bus with us. He watches when people do good things and sees the good qualities in others then writes them down; at the end of the day all his comments are read. Chapel was slightly interrupted by uncontrollable laughing from most of the group—adults included—but once it was finished we were all tired and ready to go to bed.
–Lela Burt Westmount Presbyterian Church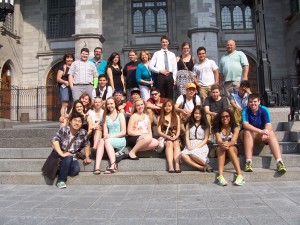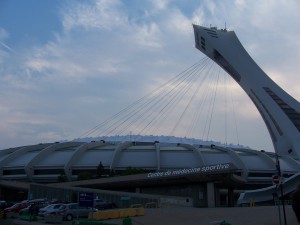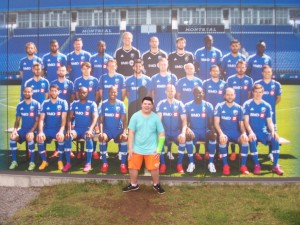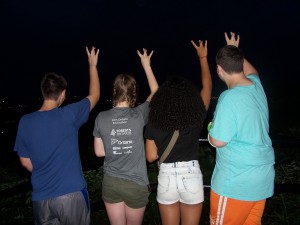 Thursday July 9th, 2015
After breakfast this morning we all got ready and left for one of our last days of work. The work crew picked up where we left off yesterday and managed to get all the scraping and sweeping done and the grout painted so we could start to use paint rollers. This was a somewhat messy experience resulting in copious amounts of half dried paint splattered all over the floor that had to be cleaned.
At the VBS there was one less camper today than yesterday but that didn't dampen the mood and after registration and singing songs in circle time they broken off into groups again to start rotations. At the craft station there was a slight altercation in the planned craft but making chalk as a back up plan was equally as fun for the campers. When all the rotations were completed they sang more songs with the campers while waiting for them until they were picked up.
Once everyone was back at the college and ready for lunch we said grace and had a delicious lunch of vegetable soup and a variety of different salads. After lunch was cleaned up we had another session of Dependable Strengths where we broke off into our groups to share good experiences that we have had while the rest of the group asked us questions. Then we were given our strength that we showed and would have needed to posses in each given situation. Next we hopped on the bus to go to St. Joseph Oratory, where we were given a tour of the multilevel church, visiting all the different chapels and listening to the buildings history. We were also given an opportunity to step out onto the balcony marking one of the highest points in Montreal where there was a view of the entire city. Then we got back on the bus to return to the college, but it would not have been complete without a stop to get an Orange Julep: a drink native to Montreal.
After another amazing dinner at the college of tacos, and brownies and ice cream for dessert we had another session of Dependable Strengths. During this we continued sharing stories and then compered the strengths we showed in this experience to our previous experiences to find commonalities. Games Night followed this session but it was soon interrupted by a trip to get poutine. The eight of us that stayed behind played a heated game of spoons waiting for their return. Once everyone was back, we all met for chapel where we listened to Reverend Joel's testimony and read Kobolds. After a long day we all got ready for bed: sad that our trip to Montreal was coming to an end.
–Lela Burt Westmount Presbyterian Church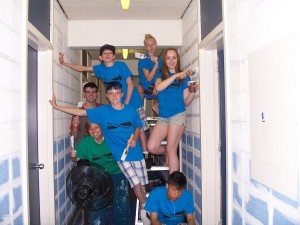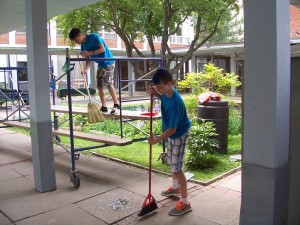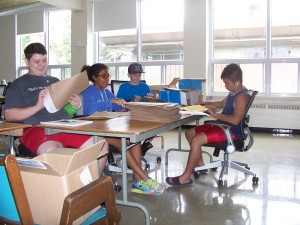 Winnipeg Mission Trip
Now readers, we left you in anticipation and suspense in our last post about what happened between the bus and the combine and who exactly won. We must apologize because it is somewhat anti-climactic. Paul and his expert driving made sure that the bus didn't flip into the ditch and the combine passed by without a problem, but the suspense at the time was overwhelming.
Once at the reserve, we got to truly experience Paul's amazing driving skills when we had to navigate through small, unpaved, and winding roads with our enormous bus as we did three-point turns. The drive to get to the camp itself was an adventure. We got lost, Mavis flirted to get directions, and then we almost got lost again with no cell phone reception to call for help. But luckily no desperate calls were needed and we ended up getting to the camp in one piece.
At the teepees we delivered our luggage before having lunch with Rev. Margaret Mullin, Stella Blackbird, and Audrey Bone, amongst other reserve residents.
We were told by Rev. Margaret that we were to take off our watches, that we were now on "native time." She said that we would be going medicine picking, swimming in the lake, having dinner, and then doing teachings. None of the activities were for a specific amount of time, rather dinner started whenever swimming ended.
We went medicine picking with Audrey and Stella who are both elders and medicine women. Stella did a prayer before we began, then divided us into four groups to each search for a certain type of plant to pick. We spread out throughout the fields and gathered them in pillowcases. Before we left the fields though, we were warned by some Parks Canada employees that we needed to watch out for bison in the area that could charge at us, but everybody made it back to the bus safe and sound.
The lake we swam at next was beautiful and crystal clear, and many of us enjoyed the water once we became used to its coldness. Some of us talked on the shores or sat and tied up medicine with Rev. Margaret and Stella at picnic tables in the afternoon sun before heading to supper.
In the early evening with a fire crackling in the background, we sat in a silent circle watching Stella, Audrey, and Rev. Margaret teach us about the medicine wheel.
Hello readers!
Today was a day like no other, and one that I'm sure we will never forget.
All packed up with our multiple bags of luggage that had been scattered throughout our Winnipeg residence, we boarded the bus nice and early to head off to the Keeseekoowenin Reserve this morning. To our delight the drive was only three to four hours, really short when compared to our previous eight hour excursions.
We travelled across some of Canada's flattest land, through the Assiniboine Valley, and listened to Mavis' stories from when she was a minister in a small Manitoba town similar to the ones we were passing by. Part way through our drive we were met with an obstacle when our bus came face-to-face with a combine on a small two-lane road, and soon suggestions began flying about how to handle the situation, most of which were along the lines of "let's stare it down, Paul!"
Tune in tomorrow for more details of this adventure…
VBC – Monday, Tuesday, Wednesday
The next morning we enjoyed a hearty breakfast at the residence and then headed off to work. Paul, our bus driver, did some amazing driving getting us through the streets of inner city Winnipeg and safely to our work sites. We divided into four groups: a kitchen crew, a VBC Flora House crew, a VBC Mission crew and a construction crew. The kitchen folk, Sharon, Kris, Erika, Lindsay and Alexis did the lunch shopping and preparation for both of our camps. The VBC crews led the Vacation Bible Camps and the construction crew discussed plans with the staff at the Mission regarding what projects would be most beneficial to work on. The kids usually arrived around 10am. Some of the highlights of our mornings were: hearing Matt S. lead "We will, we will praise Him", Beth C. leading the shark song and Keela leading the Martian song. Andrew W. did an amazing job as a snack leader (and was very innovative when Tom and Noah finished off all of the jello by mistake!). Abbey P. and Ashley J. ended up co-ordinating the Flora House site VBC, as Mavis was busy ensuring supplies were purchased and delivered for the construction crew. Ben M, Bryce and Matt did an amazing job building shelves at Flora House.
In the afternoons, we enjoyed various road trips with our VBC friends. On Monday, we went to the Winnipeg Zoo. On Tuesday, we went to Fort Whyte and walked some beautiful trails together. On Wednesday, we enjoyed a trip to Oak Hammock Marsh and spent the afternoon learning about wetlands and skimming pond critters off a dock in the swamp.(this despite a fear of bugs among a few of our girls!)
We met some wonderful children who have already overcome many obstacles in their lives. We learned of the challenges of living in this poverty stricken neighbourhood.
In the evenings, we hung up our blue work shirts and had some fun. On Monday night, we danced the evening away on a river cruise. Chelsea and Jessica F. sure can do the limbo! Andrew, Carter, the adults, the Westmount girls and Matt all sang karaoke. All of us danced and walked the deck and had a wonderful evening together.
Tuesday saw us eating dinner and doing some shopping at the Forks in the Winnipeg. It was a beautiful night and a great way to unwind after a busy day.
Wednesday night, we all enjoyed Folklorama, the longest and largest folk festival in the world. We had dinner at the Celtic Ireland pavilion and saw some amazing Irish dancing. We then traveled in our bus to Africa where we were amazed by the colourful costumes and upbeat music and entertainment. We crawled into our beds at 11pm – tired but ready for a new adventure on Thursday – a trip to Keeseekoowenin Reserve.
Sunday's Carnival
We arrived at Winnipeg Inner City Mission on Sunday afternoon, ready to work, wearing our bright green shirts. Approximately 150 members of the community came to the Carnival and we spent the afternoon serving hamburgs, awarding prizes, running bouncy castles and slip 'n slides and face painting.
It was a sweltering day, but we all had a lot of fun – particularly watching a few of the boys enjoying the slip 'n slide and getting a bit wet ourselves! We met Rev. Margaret Mullin, the executive director at Winnipeg Inner City Mission. After the carnival, we checked in to the Canadian Mennonite University residence – everyone was really happy with our residence rooms – we played some cards in the common room, and spent the night visiting and planning for our Vacation Bible camp.
Day #2 (Saturday)
Hello awesome readers!
The weather as we started off today was much better than yesterday's with clear skies and sunlight, not to mention a great night's sleep!
At noon we got off at a scenic rest stop to make our own sandwiches, play games, and give the youth – as well as Paul our bus driver – a well-needed stretch.
Entertainment on the bus was varied and definitely creative. One of the many things to pass the time were song-making competitions, one of which was about a naked mole rat allowing Mavis to show off her wonderful song-writing capabilities and for us to demonstrate our unique ability to find a rhyme for any word. Games were also played that involved us moving seats, getting to know each other better, chanting, and making secret handshakes. It was also amusing to see the antics ensuing and to hear the announcements made by Mavis and Joanne as they both really enjoyed using the microphone on the bus. We learned new songs to teach to the kids at VBS, Beth Currie french-braided hair, Kris Kuhlmann-Bigg kept us supplied with food for the long hours, card games were played in the back seats, and movies were watched. But for the eight hour bus ride today, some of us learned that the quickest way to make the time fly was sleep as we rolled through the prairies.
Eventually the 800km that seemed impossible to sit through reached 20, and we finally got to our hotel. In groups we went out to have dinner at the surrounding restaurants or the food court at the nearby mall, and to shop at the stores. People went down to swim at the pool before we had to head to Oasis for closing thoughts on the day, last minute details for tomorrow, and to receive our little letters from the invisible man on the bus, Mr. Kobold.
Tomorrow's going to be a long day, but we have a lot of excitement because we're arriving in Winnipeg!!
Farewell,
Your Presbyhooligans
Day #1
Hello Wonderful Readers:
The day started early for the 26 youth and 6 adults going on this wonderful trip. We gathered together in the parking lot of the old ice house at 5:30 this morning in the pouring rain! Luckily it calmed down after an hour or so of driving. The day started off slow, youth and leaders tried to catch up on extra sleep while it was still dark. We hit the border around 7:30 and were well on our way. After catching some more zzz and watching an episode of ER, the youth and leaders played an on the bus icebreaker to get to know each other. After arranging ourselves alphabetically, we did some singing before settling back into our seats for another hour or so before lunch. The bus stopped for lunch in Michigan. Back on the bus we did some more singing, watched "Mamma Mia" and had some rather loud laughter as youth got to know each other, we all chose our camp names. Our VBC theme is "Rock the Boat" so all of our names are boat related. Some examples are: Captain, Undertow, Tidal and Wave and Peter Pan! We arrived in Janesville, Wisconsin at about 4:00 their time which is about 5:00 your time. Don't worry, the time change confused us too! After and amazing dinner at Cracker Barrel and some nice down time in their amazing rocking lawn chairs we took a trip to the Walmart to get some fruits and meats for lunch tomorrow and some extra supplies that may have been forgotten. Now safe and sound at the hotel, some youth are swimming and some are already asleep but one thing is certain, this trip will be AWESOME!